Report print preview is smaller than actual print if Windows text size is not 100%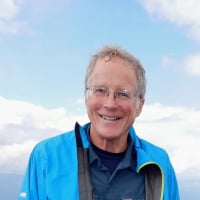 in QWin 2019 R19.44, the print preview is significantly smaller than what is actually printed. This applies to both the preview in the report print dialog and the one that is shown when I click the Preview button and seems to apply regardless of the printer I select.
The print area in the preview for a landscape formatted letter sized page shows a right margin of about 3 inches and a bottom margin of about 2 inches but the page as printed uses the selected margins of 0.5 in. Note in the screenshot below that the page number, which should be right justified to the 0.5 in margin, is about 3 in. from the right edge of the page.
This is particularly confusing when coupled with the grayed-out page scaling options 
I do not recall seeing this in previous versions of Quicken, but I may be mistaken on this.
[Edit] I am running Windows 10 and was able to resolve this problem by right-clicking on the Windows desktop, clicking on Display settings, and changing the Size of text setting to 100%.
For me this makes the text in Quicken uncomfortably small, so it would certainly be nice if the Preview text always matched the size that will be printed and did not depend on this setting.
QWin Premier subscription
Tagged:
Answers