FAQ: How do I choose Direct Connect in Quicken for Mac? RickO
SuperUser, Mac Beta
Beta
When setting up an account for online access in Quicken for Mac, the program defaults to
Quicken Connect
when both Quicken Connect and
Direct Connect
are available. Unfortunately, it's not exactly obvious how to bypass this default and choose Direct Connect instead. Here's how...
When the Add Account dialog comes up, you must click the
Options
button before clicking Continue:
You may now choose
Direct Connect
in the dialog that follows:
If
Direct Connect is grayed out
, it means that it is not available for this Financial Institution(FI). After making your selection, click Continue.
Some FIs may charge a fee for use of Direct Connect. Also, some FIs may require that you authorize Direct Connect with them on their website or via their phone support before it will be able to connect. Finally, some FIs use different login credentials for Direct Connect than those used to log into their website. If you encounter any difficulties with Direct Connect, contact your Financial Institution directly.
Direct Connect is almost always the preferred connection method when available. For more information on Quicken's connection methods, see this FAQ:
Connection Methods
(In Quicken Mac,
Quicken Connect
is the same as what is called
Express Web Connect
in Quicken Windows.)
If you already have an account set up
as Quicken Connect or Web Connect and you want to change it to Direct Connect, select the account in the sidebar and click the menu Accounts > Settings > Downloads... click Change Connect Type, and then follow the procedure above to set up Direct Connect.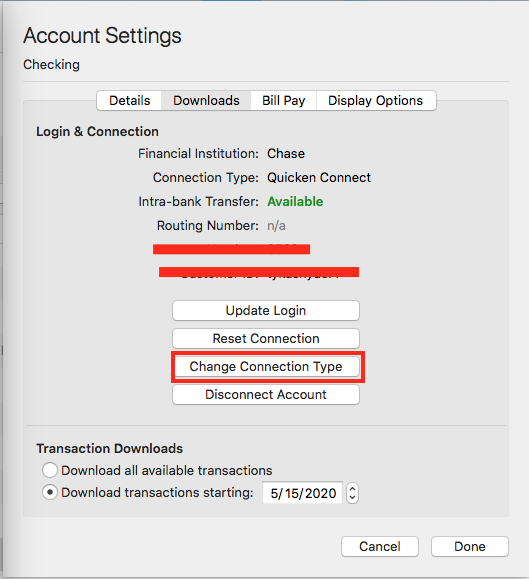 [Edited- Add Images]
Quicken Mac Subscription; Quicken Mac user since the early 90s
This discussion has been closed.