I downloaded transactions to my daughter's Quicken file when logged into Windows as myself and....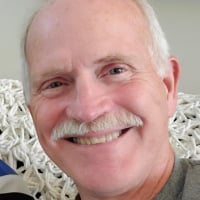 I'm using Quicken for Windows Premier. I was logged into my daughter's Quicken file with her user id and logged into Windows using my own user id. I downloaded transactions from her institutions using her login. I thought I had done this before. But this time I noticed it had added some added some of my accounts to her Quicken file. Each of those added accounts were empty but had some download transactions to add. I deleted the accounts. I completely logged out of her Quicken account and went to my own Quicken file. All looked well. However today, I opened my Quicken file and discovered that the accounts that I had deleted from her account had deleted from my own Quicken file. That is the reason I had to restore my Quicken file from a backup. Fortunately I'm a backup maniac and after I conquered the available space problem on my primary disk drive, I recovered my file fully intact. Can anyone explain to me what happened? I can only guess it is because I was logged into Windows as myself. Thanks!
Tagged:
Answers
This discussion has been closed.