Is there a way to create a custom QDF so I can import PayPal transactions more easily?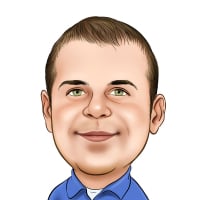 When I download a Quicken export out of PayPal it gives me a QDF file.

This QDF allows me to import, however, I then have to go through every individual transaction to categorize them accordingly.

The vast majority of the transactions are order payments, so they come in as a split; revenue received and a negative amount for the PayPal fee.

So I have to go into the split for every indidual one and set the category for each item in the split.  

I would much prefer to create a QDF that already has these categories filled out so that when I import I'm (mostly) done without having to go through every individual transaction.

I was thinking I could just write some sort of script to update the values in the QDF file to match what I need for the import, but when I view the QDF in a text editor it's all garbage.

QIF allows me to see the transaction data so I could adjust like I'm saying, but PayPal doesn't give me a QIF, it gives me QDF.

I'm thinking I could also use the PayPal API to pull transaction history, and then generate a QDF or QIF of my own, but again I need format details in order to be able to do that.

Any information on this would be greatly appreciated.  Thanks!
Tagged:
Answers
This discussion has been closed.