Can I turn off the "Matching Securities" feature upon online update?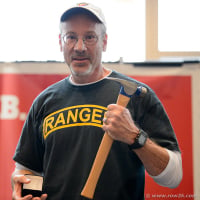 I had to rebuild my Quicken file. In the new file I rebuilt all my investment accounts by importing the transactions in QIF files. I can get the investment accounts to tie to their reconciled balances but when I try to setup online services in the new file, Quicken tries to download every possible transactions from the broker, even the ones that I brought in through the QIF files.

This is a major problem because in many cases Quicken cannot match the securities coming in from the broker with the ones already in Quicken.

In my case I have over 800 different securities (options with different expiry dates and strike prices). Normally these come in from the broker under their CUSIP and I assign them to a security based on their easy to read symbol and name. This is not a problem with they are downloaded regularly in batches of 4-5. But now Quicken is trying to download all of them ( going back to 2020) and prompts me to match each one to an existing security or have me create a new security.

Attached is a screenshot that may better illustrate the problem.

How can I reconnect my brokerage account online without having to match 800 securities?
Comments