Does your avatar have a story?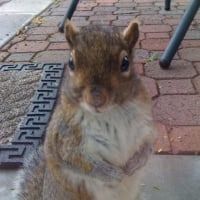 In another forum I'm in, someone asked the members to explain their avatars. There are many more interesting avatars there than there are here, but maybe some of yours have stories.
Here's mine:
In our previous home, the squirrels outnumbered the birds at the feeder. We finally gave up and threw shelled peanuts to the squirrels. This one developed the habit of coming to the back door to beg for nuts. Or sometimes to the shelf outside the kitchen window where we had a flowerpot.
Where we live now, it's a bit too wild to feed the local fauna. Airborne predators would turn our backyard into a buffet.
Got a story to share?

Quicken user since version 2 for DOS, now using QWin Premier Subscription (US) on Win10 Pro.
Comments
This discussion has been closed.