Unexpected "Last download" dates after restoring a backup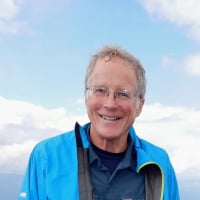 I wanted to use Quicken on a different computer for a while, so on Jan. 26 I backed up my working file to a Dropbox folder and restored the backup on the other computer. I used Quicken on the other computer for several days, including several One Step Updates. The most recent update was today, Jan. 31.

I then reversed the backup and restore process, returning the working file to the original computer. The file name remained the same throughout this process. Almost everything seems OK on the original computer. The transactions, quote updates, and account balances are up to date and agree with the second computer, but for each account the "Last download" date at the top of the register or transaction list shows Jan. 26, the date of the last OSU before the backup on the original computer.

Also the OSU summary pages do not match between the two computers. The summary for the original computer shows 1/26 dates for all the accounts and for the temporary computer it shows the update results for today, 1/31.

This seems like a bug and undermines my faith in the backup/restore process.

Does Quicken really store the OSU results for a file separately from the file itself and not include that data when backing up and restoring the file? Thanks for any insights.
QWin Premier subscription
Answers
This discussion has been closed.