Quicken 5.17.2: HUGE BUGS. (Edited)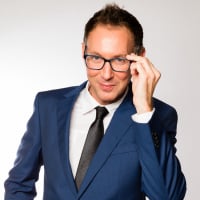 So, updating to the new Quicken 5.17.2 was a huge mistake for us. Our advice would be to avoid updating to this version. It has some really large bugs in it.

#1. The biggest bug of all is that "searching all visible columns" NO LONGER WORKS PROPERLY. We are searching for a single word that we often type into the memo field. The word is the name of a company that we work with. When we type this word into the search box, it brings up all of the matching transactions. Okay, fine. So far, so good. HOWEVER – QUICKEN ALSO INCLUDED TONS OF OTHER TRANSACTIONS IN THE SEARCH RESULTS THAT DON'T MATCH AT ALL! There is **NOTHING** in any of these other transactions that matches our search criteria! Nothing at all! Not in the visible columns, not in the hidden columns, nowhere. Not even a PIECE of the word that we're searching for appears in these other transactions. Quicken is LITERALLY just RANDOMLY picking RANDOM TRANSACTIONS and adding them into our search results! The word that we are searching for doesn't even come close to ANY of the words we've typed into these other transactions. So this is just a major bug.

#2. Quicken 5.17.2 isn't calculating proper balances for our reconciliations. It's giving us the wrong "Difference" amount when "Using Statement Balance" because it's not adding up the math correctly. We can clearly do the math on our own, which Quicken is NOT doing correctly. We had to create our own Adjustment Balances, just to get Quicken to reconcile our accounts properly. We had the proper "prior balance" and the proper "ending balance", but Quicken just isn't figuring it out properly. Never had this problem ever before. We only have 7 transactions in each account, so it's very easy to do the math properly, and see that we're doing the math properly but Quicken is not.

#3. After quitting & relaunching Quicken, custom reports do not remember their custom columns, nor the sizing/ordering of existing columns. No custom columns will remain through a quit & relaunch.
Answers
This discussion has been closed.