Has Anybody Had Download Problems From US Bank I have had continuing download problems with my US Bank account for a couple of months now. My recollection is it started right after a Q update. I sent a note to Q support immediately, but never got a response. US Bank supports (supposedly) Direct Connect downloads. I periodically get a Direct Connect OL-332-A download failure. Bank didn't accept my logon.
When I click the Yes - Next button, the next screen shows my correct Quicken Card Access ID.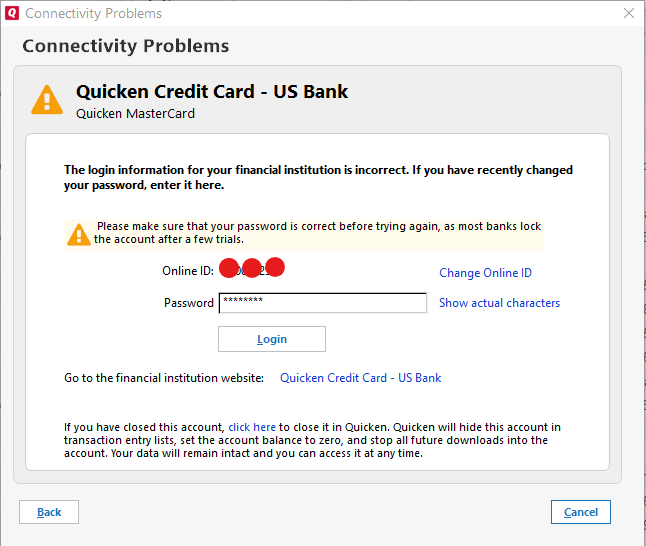 Then I put in the same password that's in the QVault, and I get a screen showing "Success - password was accepted"  but it still doesn't download.
I get another OL-332-A failure and have to start the process all over. My fix for this is to Deactivate the account, then re-add it and reinitialize my account. This works successfully for a few days, then I get the same download failure and have to go through the Deactivate, re-add Account process yet once again. The fact that it works fine for a couple of days and then fails again is really puzzling. I'm getting awfully tired of this behavior. Has anyone else seen this? Has anyone else fixed this? If you've got any suggestions, I'd love to hear from you. Thanks. 
Answers
This discussion has been closed.