Quicken for Mac v5.12 Released
What's new In 5.12?
5.12 is a major release for us.  We've been working on it for over 10 months and it includes new features, bug fixes and major under-the-hood changes to payees, transactions, and scheduled transactions.  What this means is there are a lot of changes which is why we've been heads down, testing the product and not releasing anything new for the past 4 months.  We thought we were ready a couple of months ago when we shipped it to beta customers but we kept finding issues to fix and we've been working hard to make sure it was ready. We think we're ready now.  Of course, we may have missed something, so please use this forum to notify us of any issues you're seeing in 5.12. We'll be monitoring this forum closely like we always do after a major update. So what's new in 5.12?
Renaming Rules
Renaming rules allow you to define exactly how Quicken will rename payees in transactions that are downloaded from your financial institution. Our aggregation service makes an attempt to rename your payees but sometimes it guesses badly.  Quicken 5.11 also had a very simple mechanism that would remember the last payee you used for a particular downloaded payee but it didn't always get it right.  The new feature allows you to define specific rules for renaming payees that Quicken will follow when your transactions are downloaded from the banks.  We'll automatically create rules for you when you make edits in the register.  You can choose to rename "existing & future" or just "future" transactions and you'll be able to edit, modify and manage the rules.  The renaming rules will be synced with the Quicken Cloud allowing mobile and web clients to also use the same rules.
New Scheduled Transactions
We built the new scheduled transaction feature from the ground up.  Our goal was to simplify the setup and editing of a scheduled transaction and add the features customers have been asking for including editing of the next instance and auto-entry based on a scheduled date or a period of time prior to the scheduled date. Also, we wanted to fix weird limitations that we had like the inability to pick a day at the end of the month if it fell within the last 3 days or scheduled transactions disappearing after editing a date because it no longer fit in the register visible window. 
We did remove the ability to create complex, multiple schedules in a single scheduled transaction because not many people were using it and made things complicated.  If anyone had a really complex schedule, it will now be represented as multiple rules or as an un-editable rule. Again, this shouldn't affect most people.
New Report Features
We continue to focus on improving reports.  First, we've added 3 new menu items to allow you to quickly create 3 main report types.  We also wanted to elevate these report types in the menu to give them more exposure to make customers aware that these types of reports can be created.  Many think that Quicken Mac only supports the reports that appear at the bottom of the menu.
If you create or use a new report, then you'll also get access to our new report toolbar features.  One of the new features we've added is the ability to Duplicate a report. You can also change the type, row, column and time interval of the report by selecting options from a toolbar for ad-hoc reporting.
Finally, you can easily change the name of a report after duplicating or making changes  Just move your mouse to the report name at the top of the report and click to edit.  This is only available in the new reports.  It doesn't work in the classic reports that appear at the bottom of the report menu.
Investments
We've also made some small but important enhancements to investments. First off, we've added an Investment Amount column in the register so you can see the value of a Reinvested Dividend. You can also turn on the Symbol column in the register which you may prefer over the full security name for its compactness. We also added the Average Cost Per Share column in the portfolio view. Finally, we fixed a bug where Quicken ignored the tax-free checkbox on a security and another bug around duplicate dividends when the reinvestment occurred a few days after the dividend.
Other
We also made major changes to the way we create adjustment balances when creating a new account.  Currently, the opening balance is a calculated amount that changes if you add a transaction earlier than a hidden date that no one is aware of.  This was confusing to people and could cause balance issues.  We've changed this so that transactions entered before the adjustment transaction will cause the balance to adjust.  We call this a Live Balance Adjustment.  If you want a static balance amount, just edit it and the automated calculations will stop.
Using this same technology, we've added a new feature that allows you to add an adjustment balance in any account.  Choose the 
Accounts
 : 
Adjust Account Balance
 menu item to launch this feature and to have Quicken add an adjustment balance transaction for you.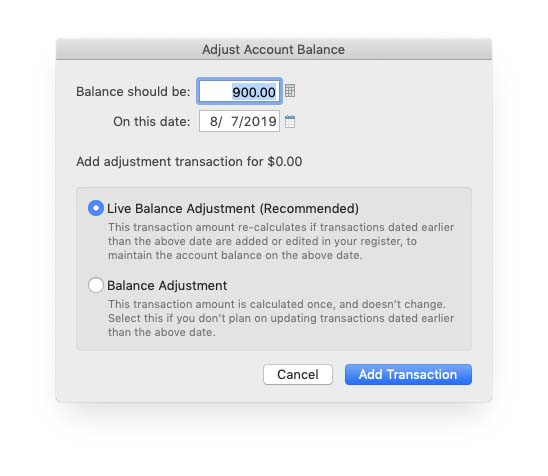 Also using this same technology, we allow you to create an opening balance in a manual account. 


As you can see there are a lot of changes in 5.12.  To see the full list of changes in 5.12, check out our new menu item Help : Release Notes in Quicken.

By the way, we'll be rolling this out slowly so not everyone will be able to get it.  Please read the notes below for more information.

Thanks,
The Quicken Mac Development Team.
Updates:
8/15/2019 - v5.12 released to a limited number of customers.
8/15/2019 - We've stopped the v5.12 rollout for now.  We want to see if there are any major issues before continuing to roll it out and we'll investigate issues reported by customers in the comments below.
8/19/2019 - We release 5.12.1 that fixes an issue when converting loans from 5.11 to 5.12.  Thanks to Randy who reported his issue in this post.  We also fixed a number of crashing issues that we saw come in the 5.12 release.  We're still in staged release mode and may stop the release after we double the number of customers using 5.12 now. Please let us know of any issues you may run into.
8/20/2019 - We're paused again and investigating other issues reported by customers.
8/20/2019 - We released 5.12.2 that fixes the issue that some customers ran into where they couldn't open their file.
8/29/2019 - We just shipped 5.12.3 that fixes a few more issues. We think this may be the last update for 5.12.
9/12/2019 - We just shipped 5.12.4 which fixes an issue with dividend transactions and a few other things.
9/25/2019 - We just shipped 5.12.5 which fixes an auto-categorization issue, a bill pay issue and the investment column menu problem.
Comments
This discussion has been closed.